Sergeant Raebig spotted this guy this morning lookin for the "bear" necessities!
Bear seen behind Save-A-Lot in Lake Wales.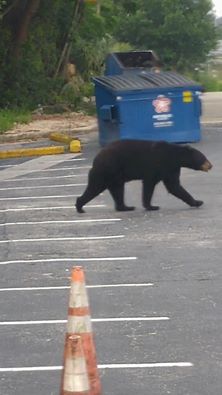 If a Bear Comes into Your Yard
If a bear is in your yard, make sure that 1) you are in a safe area, and 2) the bear has a clear escape route, then 3) SCARE THAT BEAR
!
You want to let the bear know it is not welcome in your yard, so from a safe location, scare it away by yelling, banging pots and pans, using an air horn, or anything else that makes a lot of noise. The use of paintballs, bear spray, and sling shots are also allowed under FWC guidelines.  Once the bear leaves, take a look in your yard to ensure there is nothing that might be attracting the bear
.  If you see a bear is eating something on your property, take note of what it is and secure it once the bear leaves (Learn how at Living with Bears).
See our Frequently Asked Questions (FAQ) to get an idea of how to handle a bear in your yard or in the wild.
To keep bears away, make sure you follow this advice:
Secure household garbage in a shed, garage or a wildlife-resistant container (like abear-resistant container or caddy ).
Put household garbage out on morning of pickup rather than the night before.
Secure commercial garbage in bear-resistant dumpsters.
Protect gardens, apiaries, compost and livestock with electric fencing.
Encourage your homeowners association or local government to institute ordinances on keeping foods that attract wildlife secure.
Feed pets indoors or bring in dishes after feeding.
Clean grills and store them in a locked, secure place.
Remove wildlife feeders or make them bear-resistant .
Pick ripe fruit from trees and remove fallen fruit from the ground – bears love fruit!
Screened enclosures ARE NOT SECURE and WILL NOT keep bears out.
You can also purchase or build your own bear or wildlife resistant garbage containers 
or caddy
.
Making these changes around your home and encouraging your neighbors to do the same will discourage bears from associating your community with an easy food source. Remember – if your neighbors don't become bear smart, too, the bear can tear up their yard…before coming for yours.
It is illegal to intentionally place food or garbage out that attracts bears and causes conflicts. Anything that attracts dogs, cats or raccoons will attract bears, too!
If you see or suspect that someone is feeding or attracting bears, please call us at our Wildlife Alert Hotline – 888-404-3922 – or contact us online.